Butterfly Release
Posted by Brood | Added on : -19 days ago | Viewed 2580 times | 0 Comments | This article is also in butterflies and butterflies

Butterflies are an increasingly popular addition to many traditional ceremonies including weddings, memorials, anniversaries, graduations, sweet 15/16's and any special occasion. They can be shipped everywhere in the world. They are a lively and environmentally friendly alternative to balloons, confetti, rice and bubbles and create a unique impression on guests that is sure to last a lifetime.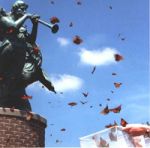 Release live butterflies for weddings, anniversaries, birthdays, memorial service or any special event to add a uniquely colorful touch that will create a lasting impression.

Our lives are filled with a variety of events celebrating new beginnings and changes. The majestic butterflies accentuate the essence of change. What better way of celebrating the amazing new beginnings in your life than with a cloud of these magical creatures?

On your special day, appointed guests can even participate in the celebration by setting free these beautiful fluttering creatures. Fill the sky with the release of beautiful butterflies to add a unique and memorable touch to your special day.
Spectacular and enchanting ~ releasing butterflies is a popular new tradition and an unforgettable experience for all! The butterfly has long been symbolic of new beginnings, good fortune and joy.

Like poetry come to life, a flock of colorful butterflies taking flight can be a beautiful and touching experience. Brides and grooms who release butterflies during wedding day events add a unique visual and emotional memory to the occasion.


For weddings, the butterflies are released to carry forth the good news of the couple's love and commitment for each other. Upon releasing the butterflies they will flutter around you and your guests, they may land on close-by objects including the bride's bouquet or even people. An amazing experience for all, creating everlasting memories and beautiful photo opportunities!

Live butterfly releases make any event extraordinarily magical. In years to come, people won't remember how gorgeous you were or how delicious the food tasted, but they surely won't forget the magic of the butterflies.
Legends about the delicate butterfly abound in part because of their free spirit and their gentle nature, and those very attributes make them ideal wedding ambassadors. The release of butterflies can be more than a wedding day highlight. It can be a very personal, hopeful moment for the bride and groom.
The ceremonial butterfly release can be the pièce de résistance of a wedding day butterfly theme. Butterflies are popular wedding décor, and abundant choices of butterfly wedding favors, invitations, cake tops, floral works, hair adornments, and backdrops are available to add meaningful beauty to the ceremony and reception.
How many butterflies you release, plus the choice of release method, depends on your preference.

Butterflies are lovely to look at and hold spiritual significance for many. According to ancient legends of the Pima Indian tribe, the father of all animals and mankind was the Great Butterfly known as Cherwit Make, which means Earth-Maker. And even today, people from all walks of life believe that whispering a wish to a butterfly before it is set free will send that wish directly to the Creator.


While a butterfly release can be an amazing wedding day event, care must be taken to insure the safety and comfort of the butterflies.


Comments on the Article
Log in or Sign up to comment