Butterfly Houses: Are they useful?
Posted by Jane | Added on : October 03, 2008 08:24am | Last edited: October 27, 2009 6:21pm | Viewed 2265 times | 0 Comments
We all know bird houses are placed in gardens to attract birds. Similarly, placing butterfly houses or hibernation boxes to attract butterflies is also on the rise these days. Are butterflies attracted towards these houses? Does installing a butterfly house in your garden really increase the butterfly population?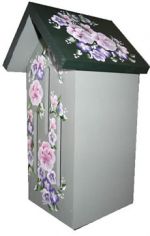 Hibernation boxes are rectangular, wooden boxes with slit openings. They look like taller versions of bird houses. While you have entrance holes for bird houses, butterfly houses have slits. These are available in a wide variety - from plain, wooden ones to decorative, fancy ones. Before you decide to buy one of these, see if it is going to help achieve your goal.

Birds need nests for shelter and to lay eggs. For such creatures, a bird house serves the purpose. Butterflies are way different from birds when it comes to laying eggs. Butterflies use certain kind of plants to lay eggs. When the caterpillars emerge, they feed on the host plant's leaves. Butterflies cannot and will not lay eggs anywhere else other than host plants. Butterflies will not lay eggs in butterfly boxes.

Companies continue to make and market butterfly houses. Before you blindly invest in one of these, you need to think of how useful it is going to be. If you have already bought a hibernation box, then console yourself with the fact that the box is at least improving the beauty of your garden in some way. Butterfly house is nothing but a useless, decorative accessory to your garden. Need I say more?
Comments on the Article
Log in or Sign up to comment