Growing Lavender
Posted by Jane | Added on : -18 days ago | Last edited: -25 days ago | Viewed 2476 times | 0 Comments
Sooner or later, every gardener decides to grow lavender plants in the garden. Good news is that it easier to grow and maintain. Though the plants and flowers look delicate, they are surprisingly sturdy and can withstand strong sun. What they cannot tolerate is dampness.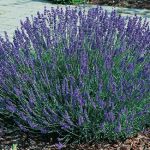 Whether you decide to plant lavender in pots or on the ground, ensure that the soil is dry. Dampness is the biggest enemy of lavender and the drier the soil, the better it is. Plant the lavender when the weather is hot. Lavenders love hot sun and will grow well during summer. You can use seeds or plant cuttings. Fertilization is not really required for lavenders, but if your soil is old then a good mix of fertilizer can be beneficial. Do not overwater the plants. If the soil is not parched, then the lavender has enough water. Watering once in 3-4 days should be sufficient. Pruning is recommended in late fall. You can cut the plant to one third of its original height. They will grow back in spring and summer.

Lavenders are naturally resistant to pests because of their aroma. They are disease resistant too. That is one less thing to worry about! You need to give utmost care to your lavenders in winter. Some varieties cannot stand harsh winters. The moisture from the melting snow can prove fatal to these plants. You can add a thick layer of mulch to help these plants survive cold weather. If your plants are in pots, then move them to a place where they are sheltered from snow.

Lavenders need a lot of pampering in the winter. Once they survive through this harsh weather, they will bloom to the fullest in spring and summer.
Comments on the Article
Log in or Sign up to comment