Growing annual flowers from seeds
Posted by Jane | Added on : November 06, 2008 07:12am | Last edited: October 27, 2009 4:27pm | Viewed 2108 times | 0 Comments
Annual plants are those which complete their life cycle in one growing season. They grow, flower, seed and die down all in the same year. They are ideal for planting in empty places where perennials have died down. Annuals are easy to grow and come in a range of colors. Some annual flowers are petunias, marigolds, impatiens and Cosmos.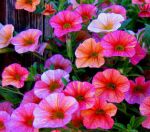 Once you buy the seed packets, read the label carefully. That should give you information about spacing, watering and sunlight requirements. Seeds can be planted indoors and then transplanted outdoors. If you want to avoid this extra step, then you can sow the seeds directly in the garden soil. Also, some annuals do not like to be transplanted and for such plants, it is best to sow the seeds outside.

Whether you are sow the seeds directly in the garden or transplant the plants later, you need to prepare the soil first. Add some fertilizer to the soil and give it a good mix. Water it for a day or two before sowing or transplanting. Containers should be watered everyday and outside seeds should be watered 2-3 times a week. Once the seedlings appear, water more frequently.

While transplanting the seedlings, space the plants apart as specified on the seed packet. The packet will usually mention a range, something like 8-2 inches. Go for the lower number if you want dense flower beds. Immediately after transplanting, water the plants every single day for about a week. Once the plants settle in, you can reduce the frequency to 2-3 times a week. Adding fertilizer every two weeks is recommended. The plants will grow well and the flowers will be fuller and brighter.

If you are new to gardening, then starting with annuals can give you quick satisfaction as you see the sprouts begin to push through the dirt.
Comments on the Article
Log in or Sign up to comment