What Makes a Good Birdhouse
Posted by Jane | Added on : September 30, 2008 07:08am | Last edited: -25 days ago | Viewed 3012 times | 0 Comments
If you want to attract birds to your garden and want them to stay put, then you can invest in a good bird house and install it in your garden. Here are some things you should look out for in a bird house.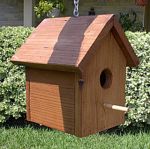 A bird house is usually made of wood. Mahogany is widely used for making bird houses. It makes for a sturdy bird house which weathers well. You can find bird houses made of Cypress and Pine too. If you decide to go for a Pine bird house, do paint it so that it ages well. Metals are a strict no-no because they overheat during summer.

The size of the entrance hole should be dependent on the size of the bird. Smaller birds need smaller entrance holes. Bigger birds need a bigger bird house and a bigger entrance hole. These are usually located near the top of the box. Entrance holes must be sheltered from rain water.

The roof should have an overhang of at least 4 inches so that rain water does not get into the bird house. During windy days, there is a possibility of rain water getting in. To overcome this, small holes should be made on the floor of the bird house so that the water drains out. A few holes should be made on the sides for ventilation.

One of the most important features of a bird house is ease of cleaning. A bird house which can be easily disassembled and cleaned is preferred.

Just like human beings, birds too look for comfort and safety in their houses. Keeping this simple thing in mind can help you choose a good bird house.


Comments on the Article
Log in or Sign up to comment